Our Programs
We offer one-on-one Adult ESL tutoring and Youth programs, all of which are volunteer-based.
Corazón believes that education is key to advancing and empowering our community and transforming the world, one person at a time.
ESL Program
Our ESL program uses both one-on-one tutoring sessions and conversational groups to integrate reading, writing, and speaking in English for non-native speakers. Students and tutors meet twice a week for an hour each session.
By pinpointing the personal needs of every student, our tutors are able to provide the most effective tutoring possible. The objective of our one-on-one tutoring program and conversational groups is to enable students to confidently learn English at their own pace.
Call us for more information!
This project was made possible, in part, by a grant awarded by the Illinois State Library (ISL), a division of the Office of the Secretary of State, using state funds designated for literacy.
Programa de Ingles Como Segundo Idioma
Nuestro programa ESL utiliza sesiones uno-a-uno y grupos de conversación para integrar la lectura, escritura, y expresión oral en Inglés para hablantes no nativos. Estudiantes y tutores se reúnen por una hora, dos veces a la semana.
Al identificar las necesidades de cada estudiante, nuestros tutores son capaces de proporcionar la tutoría más efectiva posible. El objetivo de nuestro programa de tutoría uno-a-uno y grupos conversacionales es de permitir que los estudiantes aprendan con confianza y a su propio paso.
Llámenos para más información .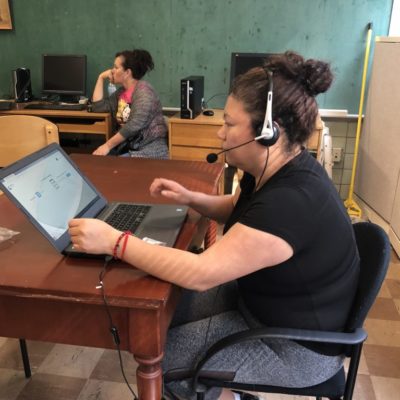 After School Enrichment & Summer Achievement Camp Programs
For grades 1-8
The After School program is comprised of homework help and tutoring that is tailored to your child's needs. We give your child homework assistance, especially in reading and math, and individualized lessons in areas where a student needs extra help. Our program is held Monday- Thursday from 3 PM to 6 PM.
Our annual academic-based 5-week Summer Achievement Camp program focuses on reading, writing, and math in order to prepare students for the coming school year.
Call us for more information or to register your child!
Programa Después de Escuela y Campamento de Logros de Verano
Para grados 1 a 8
En Corazón a Corazón, nos esforzamos todo el año para satisfacer las necesidades de los niños de la comunidad en nuestros programas Después de Escuela y Campamento de Logros de Verano.
El programa Después de Escuela se compone de ayuda con las tareas y tutoría en grupos pequeños que se adaptan a las necesidades del niño. Nosotros ayudamos con las tareas, especialmente en lectura y matemáticas, y lecciones individualizadas en las zonas donde el/la estudiante necesita ayuda adicional. El programa se lleva acabo de lunes a jueves de 3 pm a 6 pm.
El Programa de Verano es de 5 semanas e incorpora actividades divertidas que se centran en lectura, escritura y matemáticas para preparar a los estudiantes para el proximo año escolar.
Llámenos para más información .